"Experience continuous evolution & improvement."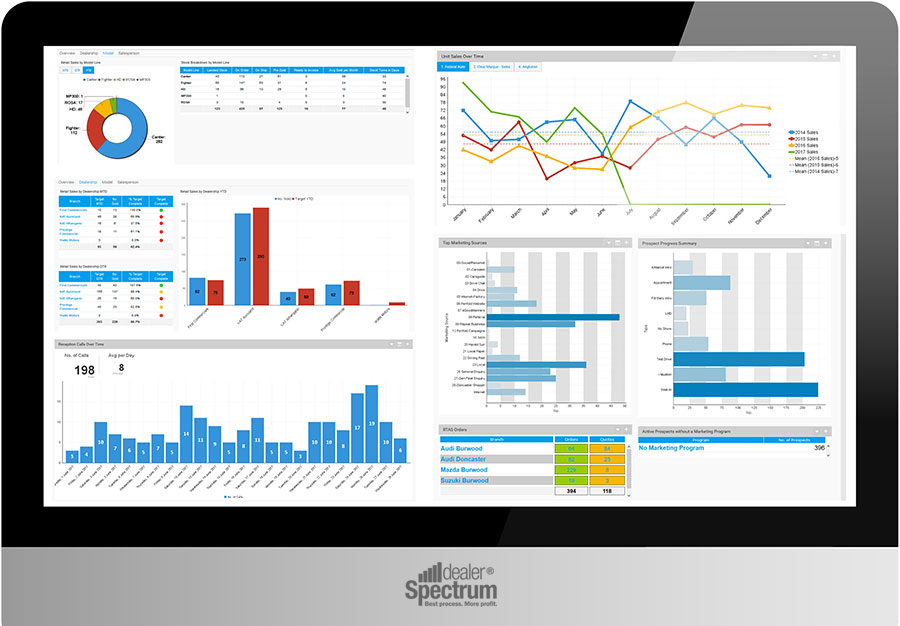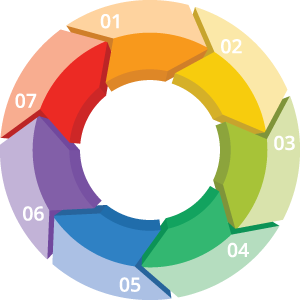 Dealer Spectrum® is a set of seven recurring steps, strategically aligned with your dealer management system.
Together, they invoke a process of planned continuous evolution and improvement – delivering managed and measurable gains in your dealership through the alignment of processes to system functionality. The outcomes include:
1. Reduced manual tasks
2. Improved efficiency
3. Increased profitability
4. Increased levels of internal control
5. Reduced risk of internal fraud
Your dealership, visually.
The Dealer Spectrum® Dashboard paints a compelling picture of your business that is easy to interpret. Issues are recognised early so they can be acted on before they become a real problem. Likewise, successes can be rewarded as they occur. Executives and senior managers won't need to access the DMS database ever again!
Identified KPI reports display your business's changes and improvements by company, branch and department, and it replaces the manual Excel and Crystal reports you currently create and maintain.
Our Promise to You
We spotlight the problem, provide the solution & deliver the improvement.
Your People and Processes
Businesses need people, but you can't focus on people until you fix processes. Even good people will struggle to perform without effective processes. A modern, growing business demands that software drives agreed to business processes.
The right DMS solution provides a framework to assist people to conform to processes, providing benchmarks and regular measurements against KPIs. It provides meaningful management reports that help the business stay profitable and grow. If the DMS does not conform to uniform business processes, fully embraced by the management team, its value is greatly diminished.
| | |
| --- | --- |
| People | Supported by management |
| Process | Adhered to by committed staff |
| Training | Proactive, affordable, easy to obtain |
| Software | Continually improving in line with WBP, professionally supported by software partner |
| Measure | Provide warnings to stakeholders of breaches |
| Retrain | Rebuild and extend Process Map |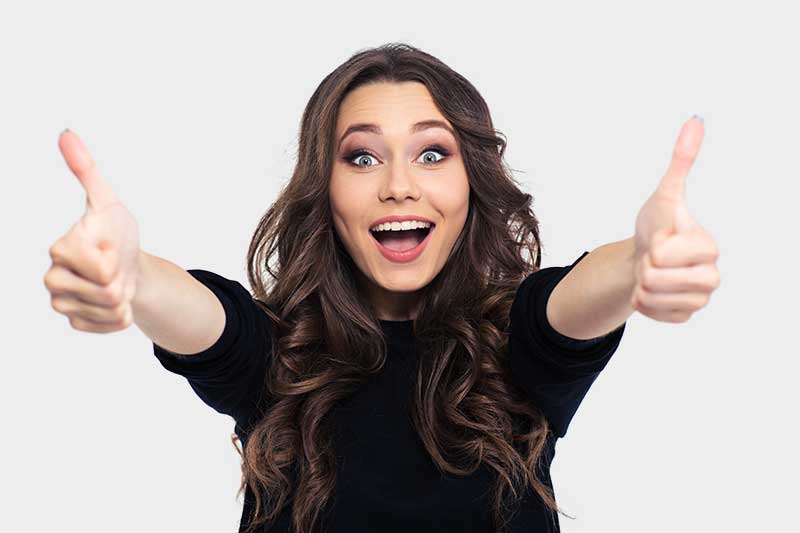 The Seven-Step Journey to Greatness
Dealer Spectrum® is an ongoing partnership between our Dealer Spectrum consultancy team and our dealer partners. It is a journey through seven critical phases that continue in perpetuity – each time delivering a substantive improvement to the efficiency and profitability of your dealership. Significantly, it closes the gap between current performance and ideal performance by changing the whole approach to where the software ends and the human interaction begins.
Dealer Spectrum® does this through defined, measured and reported end-to-end business processes for all of your people to work to within the dealership management system (DMS). The DMS becomes just a part of your toolset – leveraged intelligently to produce accelerated outcomes.
Step 1: Consult - Create Process Maps
Flowcharts and Process maps
Dealer Spectrum® tailored best practice documentation of step by step processes and flowcharts to best practice with your DMS and nominated franchises.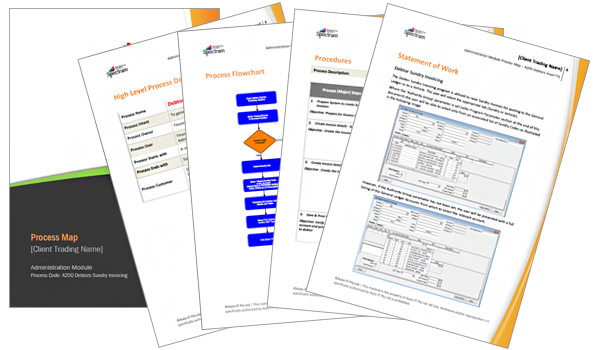 Step 2: Discover - Align Process Maps to DMS
Discovery Process to Align 'Best Practice' Process
Dealer Spectrum® provides on-site consulting to review current business processes for over 40 key processes in Parts, Service, Vehicles/Wholegoods, Showroom and Administration.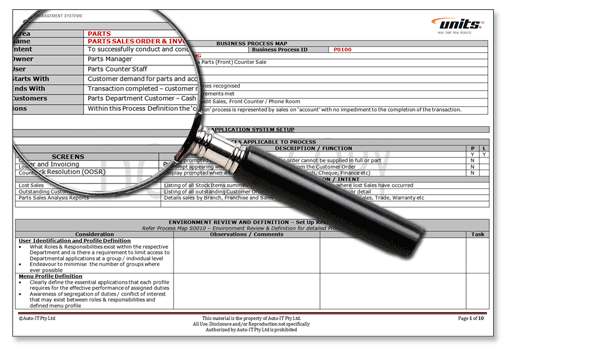 Step 3: Execute Task Register - Auto-IT DMS
Execute Task Register for Immediate & Ongoing Action Items
Dealer Spectrum® consultants provide a detailed task register of action items required for dealers before they can align to best practice.  These are proactively followed up by Dealer Spectrum® consultants to ensure attached benefit to each is achieved.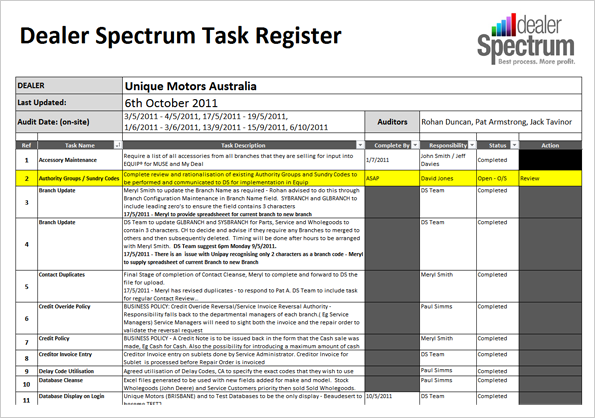 Step 4: Retrain - Operational Manuals
Operational Manuals for Key Processes
Detailed manuals are provided after processes are achieved for educational purposes and re-training of new staff.  Dealer Spectrum® continually supports and manages their upkeep to ensure they incorporate build, patch and factory interface changes that may change a process.
Re-Training on Key Processes
As required, Dealer Spectrum® will provide training to ensure that staff are adequately skilled in processes agreed to by the key dealer stakeholders.
Step 5: Monitor - Benchmarks & KPIs
KPI and Exception Reporting
Dealer Spectrum® consultants benchmark the change and improvements monthly following the adoption of the program using intuitive and compelling dashboard style reporting.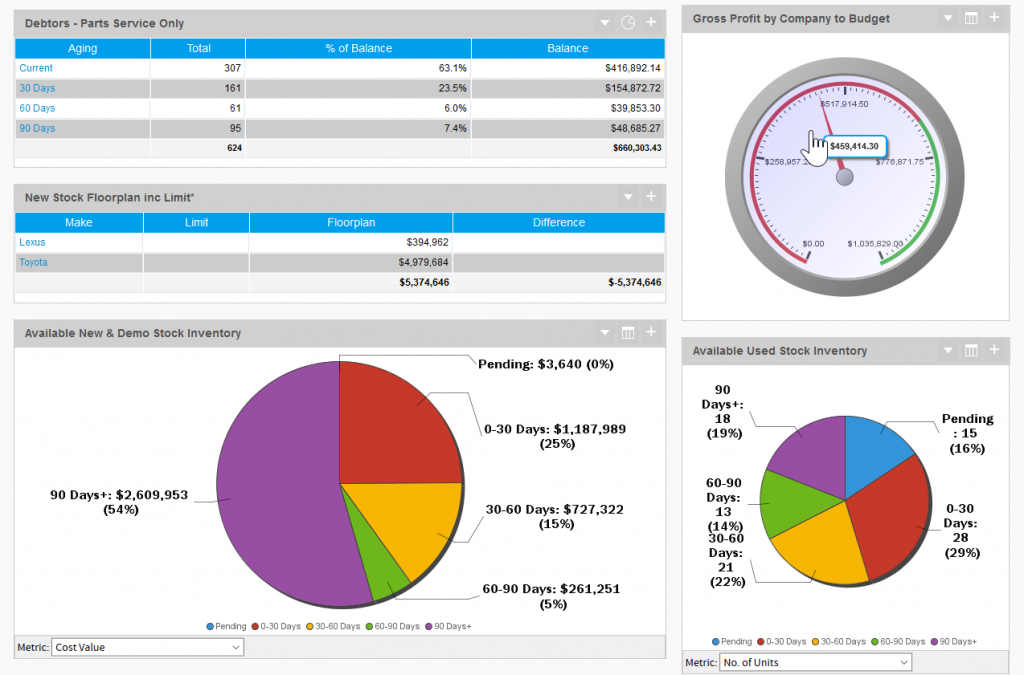 Step 6: Manage - Exception Push Reports
Push Reports for Accountability, Fraud and Reward
On agreement of the key processes for the dealership, Dealer Spectrum® staff will provide push reports that are scheduled through UWS when a process has been broken or achieved successfully for reward.  Fraudulent and Data Quality reports are also generated to ensure all dealership staff are held accountable.
Identified Push Reports are changeable as required to manage completion of the Agreed Processes previously mapped. You can vary the content to a maximum of 15 per month but change as a process becomes managed, offering great flexibility in the ever changing dealership world.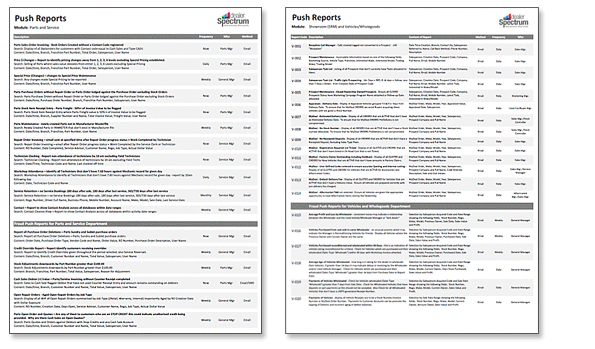 Sample Push Reports (2-page PDF document)
Step 7: Perpetual Improvement - Business Relationship
Ongoing Business Relationship
Continuous Improvement with updated documentation with Builds and Patches, Audit Reports and monitoring of process alignment managed by our team with weekly and monthly contact.