Business Intelligence for Intelligent Businesses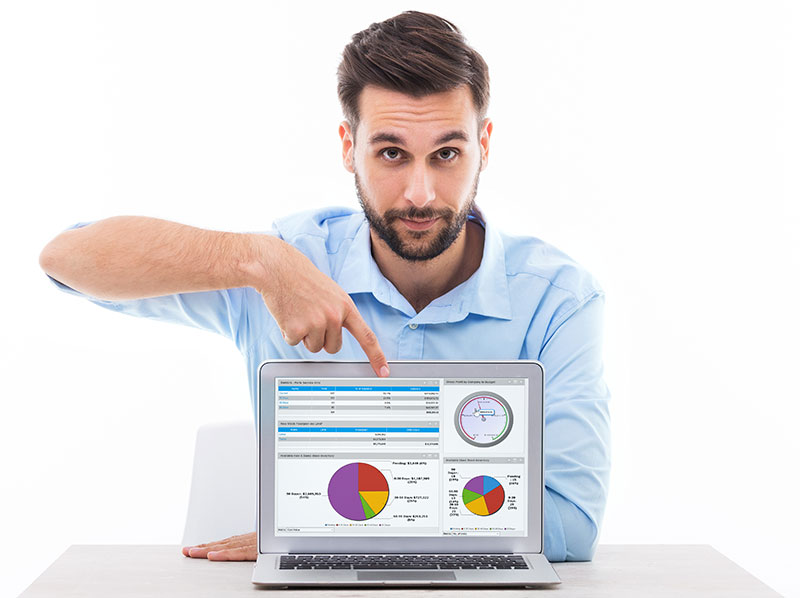 The Dashboard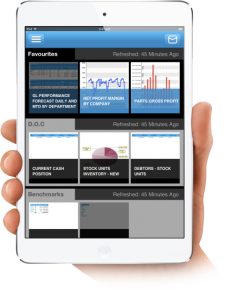 Dealer Spectrum® delivers relevant, timely data to senior management staff through a graphical, easy to digest view of the business's benchmarks and KPIs.
A selection of robust components work together to interrogate the DMS and publish meaningful data in a variety of formats to a private Web location. The Dealer Spectrum® Dashboard then provides a powerful viewing experience across a range of devices from desktops to the iPad Mini (via a mobile app). Dynamic, interactive charts deliver a clean and simple interface without sacrificing important functionality.
Benefits include reduced manual tasks, greater efficiency and profitability, better internal control and a reduced risk of internal fraud.
The KPI reports and dashboards are designed by us and tailored to your data analysis requirements. Dealer Spectrum® has a team of report writers ready to deliver these KPI reports to your portal quickly. It accumulates multiple databases and servers in a single view for comparison and analysis whilst live Information allows drill-down all the way to the transaction line.
Your Business in Logical Colourful Splendour
The Dealer Spectrum® Dashboard paints a compelling picture of your business that is easy to interpret. Issues are recognised early so they can be acted on before they become a real problem. Likewise, successes can be rewarded as they occur. Executives and senior managers won't need to access the DMS database ever again!
Identified KPI reports display your business's changes and improvements by company, branch and department, and it replaces the manual Excel and Crystal reports you currently create and maintain.
Data Cleanse & Validation
Who sold what to whom?
Optimising your clients' contact information is essential to ensuring every touch with your customer builds loyalty, longevity and profitability.
You need to know and trust that the contact details you enter are accurate and up to date. Your client database is an extremely valuable and powerful tool, but only if the data it contains is correct.
Duplicate entries, obsolete client/prospect details and incomplete data devalue your marketing campaigns, often leading to embarrassment, poor results and ultimately, frustration.
Finally, there's a fast and effective service to cleanse your vehicle data, contacts & associated customer databases in UNITS®.
Accurate vehicle data is critical.
Sales history can be a goldmine for targeted marketing programs – as long as your vehicle and client information is accurate.
Through the delivery of Push Reporting tools, the Dealer Spectrum® team will help you to get results within days! Push Reports are reports that are immediately delivered to stakeholders in the business when key processes are broken by staff.
Reduce entry errors in your client database
Reduce dead mail & wasted phone calls
Quickly & accurately enter contact details
Address data conversion issues
Minimise duplicate customer records
Identify and resolve duplicated VINs
Ensure more complete data on a daily basis
Push Reports for Accountability, Fraud & Reward
On agreement of the key processes for the dealership, Dealer Spectrum® staff will provide push reports that are scheduled through UWS when a process has been broken or achieved successfully for reward.  Fraudulent and Data Quality reports are also generated to ensure all dealership staff are held accountable.
Sample Two-Page Push ReportSample Two-Page Push Report
Identified Push Reports are changeable as required to manage completion of the Agreed Processes previously mapped. You can vary the content to a maximum of 15 per month but change as a process becomes managed, offering great flexibility in the ever changing dealership world.
Best Practice Consulting
It's the method of delivery that's unique!
Identify processing inconsistencies between/within branches
Identify and discuss any deviation in the business from normal world's best practice (80/20)
Reinforce the importance of centralised operations and obtain agreement on the nature of standardised processes
Key stakeholders and owners agree on standard policies and what makes a consistent customer experience
PINO – Process. Is. Not. Optional.
"Being unable to follow a process doesn't make you a bad person. You just can't work here."